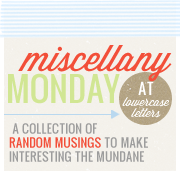 Linking up with Carissa for miscellany monday.
1) My computer's hard crashed last week. After thinking I had backed it up—I lost almost everything. (sob!) I am still in recover mode trying to re-create things. However..I now know how to install a hard drive and add new memory!
2) We are getting ready for our big yard sale this weekend. Hoping to get rid of lots of stuff and get some cash to go into the bank!
3) I am making butterflies, books, and dog biscuits this week. Quite a combination.
4) I am wondering about our frogs. I haven't seen or heard from them for a week. (they took up residence at our garden pond.) I miss them.
5) I am thankful for all my bloggy friends (like Carissa) God is good to unite those whose hearts are for orphans across the world.