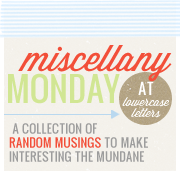 1) Our well thingamajig broke and we've had no water since Sunday morning. You really discover how much you use water when you have none! Brought to mind my
post
the other day on water and how
Jesus is Living Water
.
2) My crazy adoption blog is giving away a
2 MISSION TRIPS to Ethiopia!!!
All you have to do is order a
Simply Love t-shirt.
(which you so want anyways!) and be entered in!
3) All of these
pad party projects
are now in
Jody's
hands and will making their way to Ethiopia. Thanks Jody! PS…check out
Jody's etsy site
to order some neat jewelry! and stay tuned for another work date!
4) I spent time with some
great friends
this past weekend. I love friends that you can pick up right where you left off from years ago and that you can laugh with until your stomach aches.
5) I am walking in the
DC Stop Modern Slavery Walk
.
Slavery is a huge issue across the globe and we CAN do something about it! The statistics are alarming and I am going to share more about those later.
I would LOVE for you to join me in DC or sponsor my walk! Here is the link to my page.
On October 23, 2010, thousands of people will gather on the National Mall for the
DC Stop Modern Slavery Walk
, a united effort to celebrate human rights, raise awareness about human trafficking, and raise funds for organizations working to end human trafficking.
It's
One day, One place, and One Voice for the Voiceless!